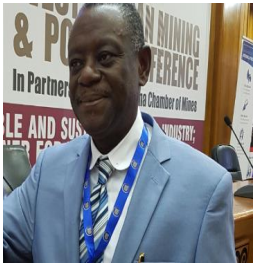 Dear Fellow ALUMaT Members:
Happy New Year, I wish you a very warm welcome into 2019 - the year of much expectation from ALUMaT. I hope you all had a wonderful Christmas time with your loved ones. As we face a new year with new challenges, let us also remember to view our blessed lives knowing that in adversity is always opportunity; to measure and value our glasses as half full rather than half empty. 2018 was another good year for our Alumni Association, ALUMaT, filled with reflection on our past, pride in our present, and hope for our future. We wrapped up a year of reflection when we closed the year with the 6th Annual ALUMaT Lecture on the topic: "Investing In Engineering, Research And Education In UMaT: A Roadmap For Multiplying Ghana's Mineral Wealth', which was expertly handled by our own alumnus, Dr. Winfred Assibey-Bonsu, PhD, SACASP, FSAIMM (Group Geostatistician & Evaluator, Corporate Technical Services, Gold Fields Corporate Office, Perth).
It will be appropriate to especially mention how gratefully I am to the 6th ALUMaT Lecture Planning Committee, chaired by indefatigable Dr. Peter Amponsah-Mensah and his team who expertly organized the Lecture with distinction. Also, our appreciation and thanks go to our headline sponsor, Goldfields, Tarkwa Mine, spearheaded by our own Alfred Baku. We cannot forget other sponsors namely, Perseus Mining Limited, Pamicor, the Ghana Chamber of Mines, Hotel De Hilda, and Harding's Hotel. We are proud of all our members, who were behind all these sponsorship efforts. Through the efforts of the Planning Committee and the sponsors we were able to publish a brochure detailing past ALUMaT activities and Lectures. We cannot also gloss over the great work of collaboration, our Vice Chancellor, Professor J.S.Y. Kuma, and his team played to give us a successful 6th ALUMaT Lecture, and the efforts of the Pro.VC, Prof. V. A. Temeng in the search of a speaker. I am also grateful for the support of my executives especially the Vice President, Mr Peter Sampson.
For those of us who were present during the 6th ALUMaT Lecture, we witnessed the relaunch of the Endowment Fund, which was first launched in 2016. The Endowment Fund Raising Committee is currently preparing for the final year of our Endowment Fund Raising Campaign — a campaign that will push the limits of our commitment in deed to UMaT and will set us up with the necessary resources to bring our alma mater to the forefront of higher education and research in Ghana, including our sub-region and even the rest of Africa.
To this end we are setting up a dedicated desk at our Alumni Office on Campus to do direct phone call mobilization of funds directly into our Endowment Fund Account at Ecobank using our MTN mobile money platform, under the supervision of Dr. Isaaka Yakubu, the Secretary to the Endowment Fund Raising Committee. The team will be calling you to send your contribution directly to MTN Mobile number: 0549508784. We are also encouraging all members belonging to various ALUMaT year groups WhatsApp platforms to channel efforts into raising funds to the ALUMaT Endowment Fund, via: Endowment Fund Account: Local GH¢ Acct: ALUMNI ASSOCIATION OF UMaT (ALUMaT) 0190094494468901 ECOBANK GH LTD- TARKWA BRANCH. Foreign USD Acct: ALUMNI ASSOCIATION OF UMaT (ALUMaT) 0191094494468901 ECOBANK GH LTD - TARKWA BRANCH.
Finally, wherever in the world you happen to be, I hope that 2019 is a year full of health, peace, prosperity, and success in every aspect of your life. Once again, keep the flag high Fellow Alumni! As always, feel free to call us or email us for more information at This e-mail address is being protected from spambots. You need JavaScript enabled to view it
Stephen K. Ndede (1988-year group)
National President-ALUMaT
January 2019